23 November, 2020
How to make Idiyappam with its most authentic side dishes
Comments : 11 Posted in :
Breakfast
,
kerala Authentic
on
by :
Rakhi Menon
Tags:
kerala authentic food
How to make Idiyappam with its most authentic side dishes
Hello every one am Rakhi Menon, here is the recipe for how to make Idiyappam and its authentic side dishes..
Idiyappam is a Kerala dish which is also called noolappam. It is also famous in Tamil nadu. It is basically rice noodles served with sweetened coconut milk. Traditionally it is a time consuming process wherein the rice is soaked, ground , sieved and then idiyappam is made. Nowadays idiyappam flour is readily available in the market which has made this one of the easiest recipe for a hearty breakfast or a quick dinner. It is also special enough for any parties. Since idiyappams are very easy to digest, it can be given to infants, old people or sick people.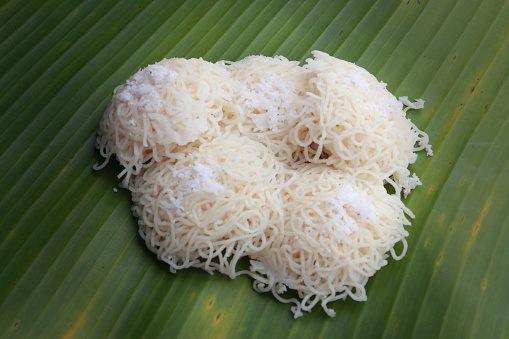 In south indian homes, usually a big batch of rice flour is made at home. I will share the procedure for making this soon. This flour is used to make puttu, idiyappam and kozhukattai. Nowadays, you can easily find idiyappam flour in supermarkets. You can also make other variations of idiyappam like ragi idiyappam, millet idiyappam, atta idiyappam etc. Idiyappams need a special equipment to make them. It is called the murukku press. You can steam the idiyappams in specially designed idiyappam plates. As a substitute, you can also use dhokla stand or idli plates for making idiyappams. It is usually served with sweetened coconut milk or just some grated coconut with sugar. In Kerala, the grated coconut id added on top of the idiyappams while steaming itself.
Recipe for Kerala Idiyappam
Preparation time: quarter-hour
Cooking time: 10 minutes
Ingredients
Rice flour/ Idiyappam flour – 1 cup (You also can use an equivalent recipe with ragi flour, millet flour etc)
Water – 1.5 cup app.
Salt – as required
Oil – to grease the idli plates
Grated Coconut – 1/2 cup
Method
Bring the water to a boil. Add 1 tsp of oil and a few salt to the boiling water.
Add this water to the rice flour little by little and blend it. you'll or might not need the whole water. it always takes between 1 1/4 cups of water to 1 1/2 cups counting on the standard of the flour.
Cover and let it rest for five minutes. When it's warm and cozy to handle, knead it to make a smooth dough.
Grease the idiyappam press. Add little of the dough to the idiyappam press.
Spread idli plates or the idiyappam plates with few drops of oil. Press a number of the dough onto the idli plates/ idiyappam stand. You will get noodles out of the dough.
Add some grated coconut on top (optional). Steam for 8-10 minutes over medium high flame.
Once done, await about 5 minutes then transfer to a hot box to stay it soft until able to serve.
idiyappam press
Serving Idiyappam
The most traditional way idiyappam is with sweetened coconut milk or with some sugar and grated coconut.
Other famous spicy combinations are egg curry, chicken curry, fish curry, beef curry and potato stew or the opposite gravy as per your taste.
You can add some cracked of mustard seeds, dry red chilies and curry leaves to the idiyappam. After that mix it with grated coconut to make coconut sevai, add some juice to make lemon sevai or add vegetables to make idiyappam kothu.
Idiyappam with Potato Stew (How to make Idiyappam with its most authentic side dishes)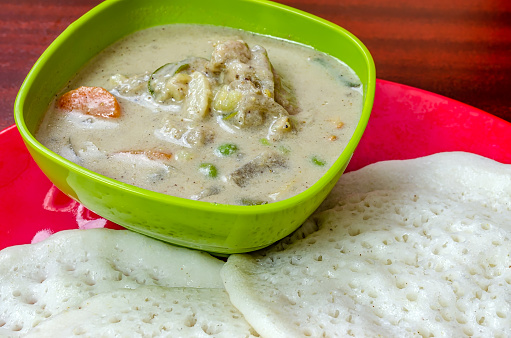 Potato Stew is one of the kerala authentic side dish had ever.. This is one of the dish which can be prepared within 15 min.But it taste so good…You can taste the precise coconut flavour because the complete curry has been cooked in coconut milk. This is one among the standard kerala dish.. It has simple ingredients in it.. It meant to be a skinny gravy dish, but if you'd love it thicker, just take some potato and mash it up, this makes the curry thicker. This dish goes extremely well with Appam, Idiyappam, Bread…If you're serving this with rice, just make some spicy dish to travel along side this…I hope you all will give this a attempt to let me know what you think that ..
Ingrediants:-
Potato-1 boiled and mashed
Onion-1 sliced
Green chilli-2 slitted
Curry leaves-1 spring
Ginger-1 inch piece juliened
Coconut Milk-1 cup(Thin Extract)
Coconut Milk-1 cup(Thick Extract)
Salt- to taste
Sugar-1 tsp
Coconut Oil-1 tblspn
Method:-
add oil in a kadai till it heat up.
Add in ginger and fry for 1 min.
Now add within the onions, curry leaves, green chilli and fry for 3 min.
Add within the thin extract of coconut milk first and let it come up to a boil.
Add within the potatoes and blend well..
Now let it cook covered for five min.
Pour the Thick extract milk and let it boil once.
Season with salt and sugar.
Serve hot with rice or anything.
Idiyappam with Egg Curyy (How to make Idiyappam with its most authentic side dishes)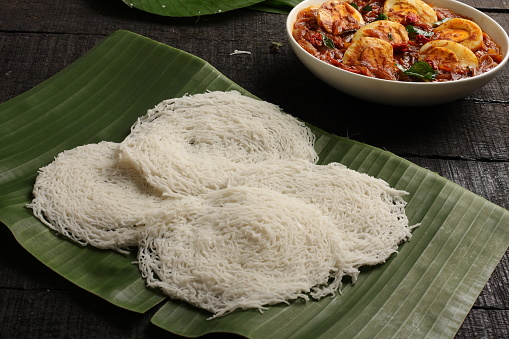 Kerala Egg Curry
Preparation Time : 10 mins
Cooking Time : 15 mins
Serves : 4
Ingredients:-
Egg : 4 nos
Onion : 1 large (thinly sliced)
Tomato : 1 medium (chopped)
Garlic : 3 pods (finely chopped)
Ginger : 1/2″piece (grated)
Green chilly : 4 nos (chopped)
Red Chilly Powder : 1/2 tsp
Turmeric Powder : 1/4 tsp
Coriander Powder : 1 tsp
Grated Coconut : 1 cup
Mustard Seeds : 1/2 tsp
Curry Leaves : few
Coriander Leaves : few to garnish
method:-
Take boiled eggs and keep it aside deshelling it.
Grind the coconut along side little water into smooth paste.
Add mustard seeds, add sliced onion, chopped garlic, grated ginger, chopped green chilly and curry leaves in a kadai.
Saute till the onion turns golden,
Put all spice powder and saute for minute over low flame.
Add chopped tomato and salt; mix well. Close the pan and cook for two min in low flame.
Include the coconut paste; cover and cook till the gravy thickens.
Chop the de shelled egg vertically into halves and add the egg. Mix well with the masala, (Note : lookout to not break the eggs ) close the pan for couple more minutes, allow it to boil.
Remove from fire and garnish with coriander leaves…Serve with Appam /Idiyappam, rice or any Indian Bread and Enjoy!
For beef curry and fish curry recipe please visit the link below
11s COMMENTS