20 January, 2021
Best 14 Dishes to try in Kerala
Comments : 3 Posted in :
Food
,
kerala Authentic
on
by :
Rakhi Menon
.Best 14 Dishes to try in Kerala
Hello every one, Am Rakhi Menon here is some best Dishes to try on kerala…
Kerala is that the place of exotic spices, so don't be surprised by the spicy curries and dishes of this state.
Kerala cuisine could even be a mixture of both vegetarian and non vegetarian dishes
spiciness and taste assuring that it lingers long in your mind.
Along with the spicy curries and biriyanis there are desserts like payasam, halwa of various varieties.
What more to say? There is even a street in Kozhikode district named 'Mittayi theruvu', meaning Sweet Street with many shops selling all types of sweets including the famous Kozhikode halwa in various flavours and textures.
Best 14 Dishes to try in Kerala
Breakfast is tremendous in Kerala cuisine; there are dishes like appam, idiyappam, dosa, puttu, pathiri
lots of more for breakfast that goes along side any vegetarian and non vegetarian curries.
Tea is vital for malayalees they take a cup of tea twice each day at morning and evening.
Major staple food of Keralites is rice; a bed of rice is what they need for lunch or dinner any curries, side dishes and fries are accompanied with it.
Main component of all savory dishes would be coconut which is added as grated, chopped, grinded and as coconut milk,
this is of no wonder from the rich wealth of coconut trees in Kerala.
Another special mention is that the curry leaves, goes into all the most dishes the scent of these leaves will give that Kerala touch to any dishes.
Turmeric, Tamarind, Cumins, Fenugreek are all the exotic ingredients added within the Kerala dishes giving it
the punch of spiciness to form balanced curries.
Sadya (Best 14 Dishes to try in Kerala)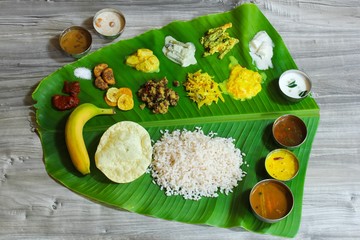 Sadhya – Traditional vegetarian feast of Keralites
The king of all the kerala dishes specially made for Onam.
Other celebrations the sadhya may be a multi course meal that has many vegetarian curries to be eaten with rice and at the end dessert course will be payasam.
The multi dishes aims to balance sweet, sour, spicy and tangy dishes to celebrate the multi taste buds of the palate.
When you are visiting Kerala, try at least once a sadhya to know the essence of Kerala.
Puttu kadla curry(Best 14 Dishes to try in Kerala)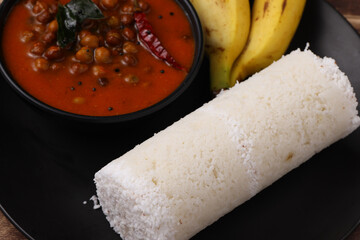 Puttu is a famous breakfast dish in all the parts of Kerala.
It is steamed rice flour mixed with water and salt in a cylinder like steam pot.
Puttu goes with any curries or simply banana and grated coconut
the simplest entremots is that the kadala curry (black chickpeas curry),
a spicy coconut gravy and boiled chickpeas are the ingredients.
This will make your belly full and the high protein content will not make you hungry until noon
Keralites only have heavy breakfast so to avoid snacks in between breakfast and lunch.
Appam stew(Best 14 Dishes to try in Kerala)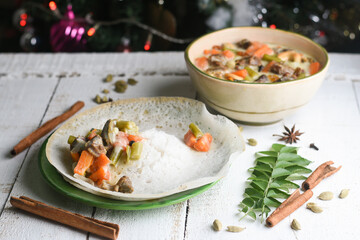 Appam is sort of a pancake made with a rice batter made during a special appachatty,
The round shallow dish that's wont to make hot round appams.
The middle potion is soft and spongy while the edges are going to be crispy
The appam are often teamed up with any curries but the simplest is hot stew vegetarian or non vegetarian.
Kerala stew haven't any chilli powder instead peppers and green chillies are utilized in abundance to offer the warmth .
Potatoes, onions, ginger garlic are the other inevitable ingredients along with coconut milk
chopped chicken, mutton, beef or vegetables.
This delicacy only found within the South of India here in Kerala.
Idiyappam with Authentic Side dish(Best 14 Dishes to try in Kerala)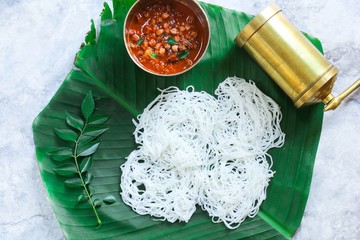 Idiyappam or noolappam is additionally a dish made out from rice dough,
Thin strands of rice dough are going to be mad from seva then cooked in steam to urge idiyappam.
Soft idiyappam with hot egg curry may be a good way to start out the day in Kerala,
the idiyappams are steam cooked they're so light and fluffy.
Try to learn to form idiyappams in Kerala and buy a seva for yourself then make this easy dish at your home.
Please follow below link for the recipes
Dosa sambar(Best 14 Dishes to try in Kerala)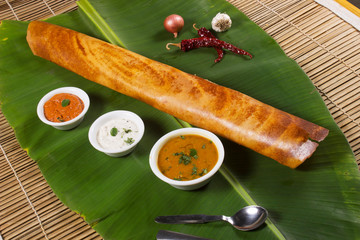 Dosa may be a famous South Indian dish and check out them while you're in Kerala with hot sambar which may be a vegetable curry made during a spicy sour curry including lentils.
Varieties of vegetables, shallots, lentils and various spices like cumin, turmeric powder, chilli, coriander, with tamarind paste goes in to the preparation of sambar.
Please follow below link for the recipes
For chutneys please follow below link
Malabar biriyani(Best 14 Dishes to try in Kerala)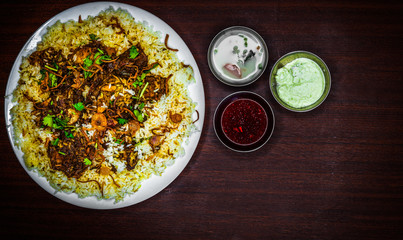 The food of malayalees, a plate of biriyani is enough to form an individual happy here in Kerala.
Made with many spices, meat and basmati rice Malabar biriyani stands out on its own from the other biriyanis.
The preparation needs an extended time but the wait is well worth the final product of aromatic rice and meat accompanied with a coddled egg , yogurt salsa and pickle.
There needn't be any curries to eat this biriyani, find a tasty biriyani spot while you visit Kerala
Also  have it to enjoy the please of multi levels of flavourful soul food.
Please follow below link for the recipes
Spicy chicken fry (Best 14 Dishes to try in Kerala)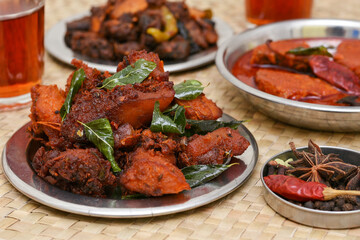 marinating and frying the pieces in hot copra oil to a brown colour.
Spicy Chicken fried during a bunch of spices ,Naadan Kozhi Varuthathu
Chicken lovers need to do this dish, the crispy skin
soft flavourful meet is heavenly including the aroma of the fry will cause you
to fall crazy with this Kerala special Chicken Fry.
Kerala Beef Fry (Best 14 Dishes to try in Kerala)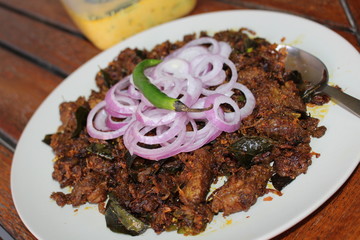 a spicy delicacy made by beef stir fried in Kerala
with pepper, onions, ginger-garlic and garam masala in copra oil to form this yummy beef fry.
Fired curry leaves is the topping for this dish.
The beef fry goes well with Malabar Parotta a kind of parotta made with flour and oil which is soft but heavy on calories.
The combination taste of these two will make you forget about calories and to just dive in to the pleasure of beef fry with parotta.
Prawns theeyal Curry(Best 14 Dishes to try in Kerala)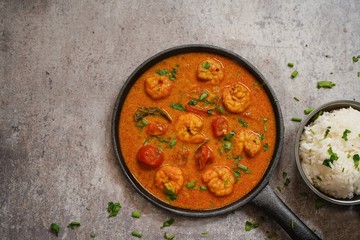 the massive ones are usually roasted,there are a spread of prawns available in Kerala, .
Therefore the small ones are made in to'Chemmen theeyal' fried coconut gravy with prawns.
The dish are often served along side rice or breakfast dishes like appam, idiyappam.
Kerala Chicken Curry(Best 14 Dishes to try in Kerala)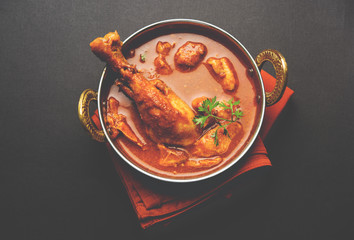 This is not a usual another quite chicken curry,
Kerala Chicken curry is flavourful spicy and type of creamy from the coconut milk added thereto .
The Christian community makes non vegetarian special like the Kerala Chicken Curry on all Sundays.
Savour the recent spicy flavourful Kerala Chicken Curry subsequent time you visit Kerala for holidays.
Please follow below link for the chicken curry recipes 
Kappa Fish curry (Best 14 Dishes to try in Kerala)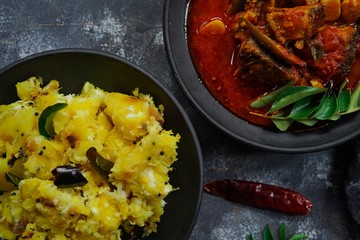 Cassava or commonly called as 'Kappa'
Kappa and Fish curry could also be a mixture like bread and butter for Keralites,
rich fish wealth of Kerala makes them a pioneer in acing the proper spicy red fish curry
made with tamarind sauce and coconut milk or paste.
Please follow below link for the recipes
Thattu Dosa (Best 14 Dishes to try in Kerala)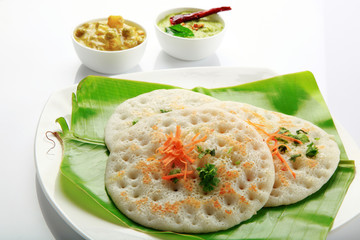 The people of Kerala usually cook their food to dine in their own kitchens
but in some later years the road food of Kerala is becoming very fashionable among families.
The roadside convertible small shops mentioned as 'thattukada' commonly sell delicious dosa with chutney and omlet.
These have become a part of every malayalee's evenings
 the food is delicious but cheap only 25 rupees or so for one person to eat lavishly from these small shops.
payasam (Best 14 Dishes to try in Kerala)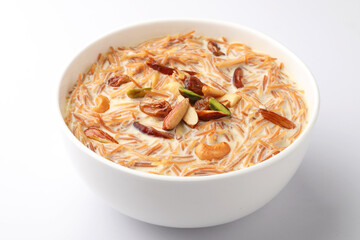 We normally serve 3 types of payasam.
Paal Payasam, Ada (Rice batter) Pradhaman and Kadala (lentil) Payasam.
The payasams are very sweet and milky in texture,
cardamom is that the only spice added in payasam along side ghee, raisins and cashews.
The Ada Pradhaman has coconut pieces chopped and added into it for a special flavour.
Please follow below link for the recipes
Kallummakkaya Ularthiyath/ Mussel Stir Fry (Best 14 Dishes to try in Kerala)
Use shallots, garlic, chillies, turmeric, garam masala in cleaned Mussel .
grated coconut to form the famous Mussel fry of Kerala.
The dish is best with boiled kappa or cassava and with rice along side hot curries and vegetables.
3s COMMENTS