4 November, 2020
5 varieties of Upma made @ home for tasty breakfast
Comments : 6 Posted in :
Breakfast
on
by :
Rakhi Menon
5 varieties of Upma made @ home for tasty breakfast
Hello every one am Rakhi Menon, here are some recipes on how to make your upma more yumm…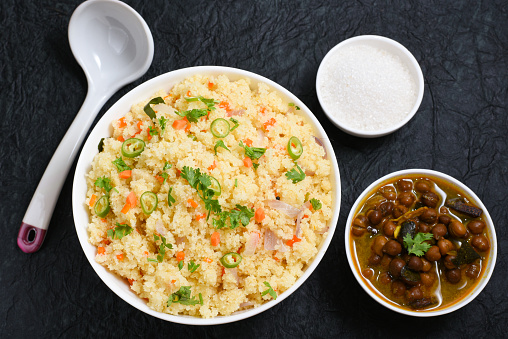 Upma (pronounced oop-maa) its a traditional Indian dish served mainly during breakfast. Upma is made all over the Indian subcontinent with regional variations on flavors and vegetables that makes the dish to high. The taste of this savory entrée come primarily from the south Indian states of Kerala, Karnataka, and Tamil Nadu . this is often the normal authentic Tamil Nadu version of this easy and delicious dish which will ignite your passion of trying ethnic dishes within the comfort of your home!
Rava upma (5 varieties of Upma made @ home for tasty breakfast)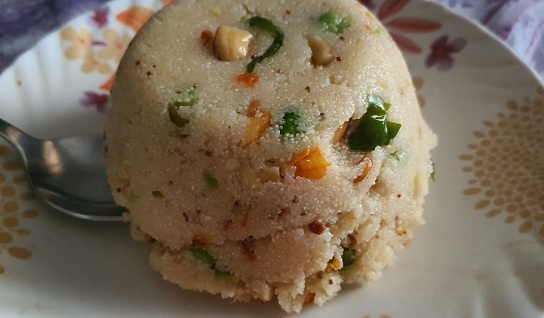 Ingredients:-
Rava / Sooji -1 cup
Onion-1 chopped finely
Green chilli-2 chopped
Curry leaves-5
Asafoetida(kayam)- ¼ tsp
Mustard seeds(kaduku)-1 tsp
Urad dal(ulunda parupu)-1 tsp
Ghee-2 tblspn
Ginger – 1 tsp
Salt to taste
Coriander leaves or spring onion for garnishing ( can add vegetable as per you choice carrot, green peas etc..)
Water – 2 cups
Instructions:-
Add ghee and crackle some mustard seeds, Urad dal, Asafoetida for 1min in a kadai
Put some onions, green chilli, curry leaves and cook for 1min.
Add within the boiled water, and blend well, let it come to an honest boil. Season with some salt.
Slowly add in the rawa and mix well. Cover it and Simmer it for 15 min.
Garnish with coriander leaves. Serve it with Spicy coconut chutney.
Semiya (Vermicelli)upma (5 varieties of Upma made @ home for tasty breakfast)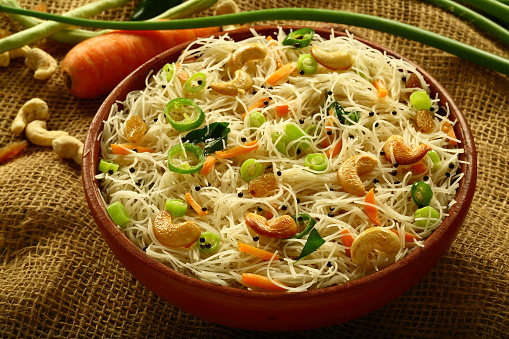 Semiya upma is a famous south Indian vegetarian breakfast dish made from vermicelli. This is a one pot dish made with basic ingredients that is easily available. The recipe within the post is ideal for people that crave spicy food for breakfast.
You can have it with curd, chutney or sambar but this recipe are often eaten alone with none sides.
Adding the right amount of water is the key to making the semiya non-sticky with thin strands. Add vegetables of your choice if you want to add more nutritional value.
Ingredients:-
1 cup semiya/vermicelli
1 large onion(sliced thin)
5-6 nos chopped green chillies (or use as per taste preference)
1 inch ginger, some curry leaves,1tsp mustard seeds, tbsp channa dal and  tbsp urad dal
1 large carrot (finely chopped)
3 nos beans(finely chopped)
1/2 cup fresh/frozen peas
10 whole cashews
1+1 tsp ghee
2 tbsp oil
Salt to taste
2 cups water
Instructions:-
1. Cook finely chopped veggies(carrot, beans, peas) with a little pinch of salt. Keep aside.
2. Heat 1 teaspoon ghee. saute the semiya in ghee until it begins to show golden brown. Remove roasted semiya onto a plate.
3. Heat 1 teaspoon of ghee and oil during a deep bottom pan. To hot oil add mustard seeds and wait till they crackle. Add urad dhal, channa dal   and saute for a moment or till they turn golden brown.
4. Add ginger, curry leaves, green chilies. provides it a stir.
5. Saute thin slices of onions. Chop within the cashews and shallow fry it until cashews begin to show golden brown.
6. Add pinch of salt to taste and boiled vegetables mix well, fry for 20 seconds.
7. Pour 2 cups of water. When water involves boil add the cooked veggies stir and cook covered on low flame for jiffy until semiya is cooked well(not mushy).
8. Garnish with finely chopped coriander leaves. Serve hot with spicy coconut chutney, pickle or the way my daughter likes it with sugar(Oh, I hate to eat my upma with sugar! But I see kids like to eat it that way ?
Notes:-
1. Use any veggies of your choice, sweet corn, capsicum, mochaikai ..will be good options.
2. Use more green chilies if you wish it spicy.
3. Add a touch of ghee once the upma is cooked just immediately after switching off the flame. Will enhance the flavour and taste of the dish.
4. Can easily replace semiya/vermicelli with millet of your choice for very healthy options.
Aval upma /Poha (5 varieties of Upma made @ home for tasty breakfast)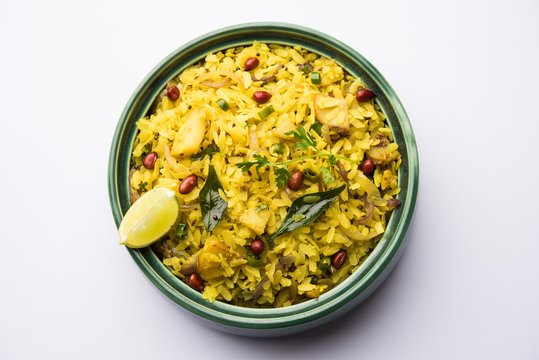 Poha/ Aval is flattened rice (beaten rice flakes ) are often cooked during a sort of ways. Any dish or recipe made from poha is straightforward to cook and nutritious. It is wont to prepare snacks or light and straightforward nutriment like chivda, upma, mixture, etc and sort of cuisine. It are often eaten raw, soaked in milk or water or cooked with tempered veggies and lots of sweets with poha or also very fashionable .
Kande poha may be a healhty popular Maharashtrian Breakfast recipe made up of flattened rice (beaten rice flakes) with many onions. Kanda pohe'(onion poha) or batata pohe (potato poha) are the common breakfast or snack items and it's famous mumbai roadside/street food recipe.
Ingredients:-
Aval (poha/flattened rice) – 1 cup
Water to scrub poha
For seasoning:
Oil – 2 ½ spoons
Mustard seeds – ½ tea spoon
Bengal gram – ½ spoon
Urad dal – ¼ spoon
Onion – 1 chopped
Green chilli – 2 no's (cut in to half)
Curry leaves – 1 sprig
Salt to taste
Coriander leaves for garnishing
Lemon juice – 1 spoon (option
Instructions:-
At first take a bowl therein add aval next add water then rinse 2 times thoroughly and drain the water completely from aval and keep it aside.
Take a pan therein add oil when it's heated add mustard seeds and it's splutters add Bengal gram and urad dal.
After a moment add chopped onion then fry till it become transparent.
Now add green chili, curry leaves, pinch of turmeric powder and required salt then fry for a moment .
It's time to feature soaked poha/aval then mix gently because an excessive amount of of blending results in destroy the feel of aval upma.
Meanwhile check salt of this dish and cut the stove.
Finally add juice and coriander leaves then mix gently and transfer aval upma in to serving plate.
Now hot and quick aval upma is prepared to serve.
It is an ideal fasting food and quickly making food also.
Bread upma /Poha (5 varieties of Upma made @ home for tasty breakfast)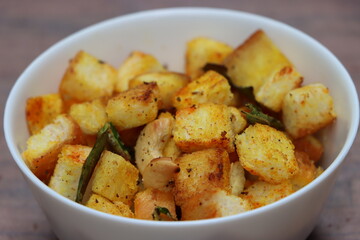 Bread Upma is a traditional South Indian recipe. It is a savory and tangy dish which may be served as a Breakfast or as a fast fix meal.
Bread Upma is made by bread pieces during a spicy tempering made from chillies, onions, tomatoes, fresh curry leaves and mild spice powders. The dish tastes really delicious because the bread pieces take in all the masala.
Bread upma is usually prepared as a breakfast in India. Use of bread makes this dish more interesting for adults and youngsters alike.
This dish also can be packed in tiffin box for college going children who may find this savory dish more attractive than traditional Upma.
Ingredients:-
6 Slices for Bread
1 Small Sized Onion, large Tomato and Green Chilli
2-3 Cloves of Garlic
1 inch piece of Ginger
8-10 Curry Leaves (Kari Patta)
1 Teaspoon Rai (Black Mustard Seeds)
1 Teaspoon Cumin Seeds (Jeera)
1/8 Teaspoon Asafoetida (Heeng)
1/3 Teaspoon Turmeric Powder (Haldi)
1/2 Teaspoon Red Chilli Powder
1/2 Teaspoon Salt, or to taste
1-2 Teaspoons juice
5-6 Sprigs of Coriander Leaves
1 Tablespoon Oil
Instructions:-
Heat some oil during a pan or kadai. Add some Rai (Mustard Seeds) thereto and permit them to splutter.
Then add some Cumin Seeds (Jeera) thereto and fry till they start to crackle. Also add a pinch of Asafoetida.
Chop the onion and tomato to small and add to the pan and fry them till they turn light golden brown.
Then add a couple of curry leaves and fry them for a couple of seconds.
Then add Ginger-Garlic paste with finely chopped Green Chillies and fry them till they're cooked.
Put some Salt, Turmeric Powder (Haldi) and Red Chilli Powder to the pan..
Make the bread slices into small square pieces and add them to the pan. I even have used brown bread here, but you'll use any bread you would like .
Mix everything and coat the bread with the masala completely. Let it cook for five minutes, stirring occasionally. Sprinkle some juice and
chopped coriander leaves on top. Mix everything well.
Bread Upma is ready . Serve it hot for Breakfast or enjoy it as a snack at any time of the day.
Lapsi upma /Poha (5 varieties of Upma made @ home for tasty breakfast)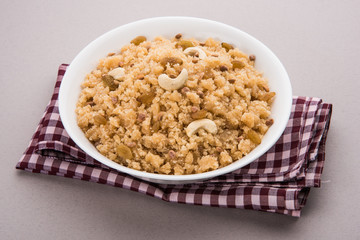 Lapsi is being increasingly used nowadays because it is more healthy than Bombay rava or semolina .I make upma from lapsi rava of finer variety.I buy lapsi rava & lightly dry roast till it changes colour slightly. Then I let it cool & put it away in air tight box. Whenever I even have to form upma, I use this roasted lapsi in order that i want not dry roast it at that time .It saves my time.
Ingredients:-
1 cup lapsi rava,
3 cups water ,
1/4 -1/3 cup finely chopped cabbage ,
1 capsicum- diced,
1 carrot finely diced,
2 tbsp peas,
1-2 hari mirchi diced,
1tsp grated ginger,
1 red chilly, sprig curry leaves and tsp urad dal,
1tsp mustard seeds,
1/4 tsp hing,
2 tbsp oil,
salt to taste
Fresh corainder & fresh dessicated coconut for garnish.
Instructions:-
Put some water for boiling. On another gas burner ,take a kadhai with oil & because it warms up ,put mustard seeds and  urad dal untill it is fried. They will turn golden brown.
Add red chill & then all the veggies including hari mirchi & grated ginger .Roast in oil for 2-3 minutes.Then add lapsi rava.Roast it for 2 minutes in conjunction with veggies.
Pour boiling water to this lapsi veggie mix .
Add salt & mix everything. Cover with lid & cook .
After 5 minutes,
check, to determine if all water has been absorbed.
keep cooking untill water absorb, covered with lid.
Garnish with fresh coriander & coconut once you serve.
6s COMMENTS