9 November, 2020
5 Instant desserts made out of breads…
Comments : 12 Posted in :
dessert
on
by :
Rakhi Menon
5 Instant desserts recipe made out of breads…
Hello every one here is some easy recipe for desserts made out of breads you can try @ home…..
A quick bread may be a bread that's made without yeast and may be prepared and baked with minimal time needed. This recipe are often made savory or sweet and in endless variations!
I love having base recipes in my arsenal. Tried and true recipes which will be adapted to form endless variations!
This adaptable savory or sweet bread is that the perfect blank canvas to form time and time again with any flavor combination you'll think of!
Shahi Tukda (5 Instant desserts made out of breads…)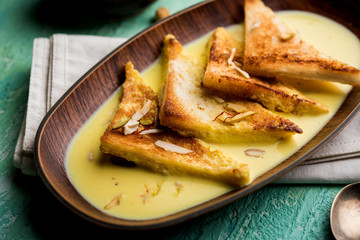 What is Shahi Tukda? The word 'shahi' means royal and tukda/tukra means 'a piece' so this is a Royal Piece that is rich in taste, aroma, flavour and even in calories! Imagine ghee-fried white bread soaked in sugar syrup and topped with Rabdi which is reduced milk sweetened and flavoured with saffron and other great aromatic ingredients. One of the many dishes that was made and served during the Mughals. I used to be intimidated to try anything tagged "Royal" as I believed it would involve long strenuous process and unaffordable ingredients! But this is so much simpler and easier than many other Indian sweets.
I knew that Shahi Tukda had fried bread, sugar syrup and some kind of reduced milk. I then googled and learnt that it is called Rabri or Rabdi. But the texture of the reduced milk was different in every other image which got me to research more just for knowledge. I found the word Basundi which may be a thinner version of Rabdi. Now, I am not sure what stage my full-fat milk reached as it reduced a lot more than half but never got creamy like some pictures showed. But the aroma and therefore the taste was indeed royal!
INGREDIENTS:-
1.For making Rabdi (flavoured sweetened condensed milk):
1-litre full-fat milk
1/2 cup sugar
2 pinches of saffron, crushed and soaked in warm milk
3 cardamom pods
1 teaspoon rose water
1 tablespoon slivered pistachios
2.For the making sugar syrup:
1 cup of sugar
1/2 cup water
1 cardamom pod
3.For Tukda/Tukra:
6 slice – plain white milk bread, sides removed and cut into 4 triangles = 24 pieces
Ghee to shallow fry
4.To garnish and serve:
METHOD:-
Prepare the Rabdi:
Add milk to a heavy-bottomed pot and bring it to a boil on medium to high flame
Reduce the flame and simmer until the milk is reduced to little more than half its quantity
Add saffron, cardamom, sugar and keep simmering the rabdi until it thickens enough to coat the back of a spoon
Stir in the rose water and switch off
Let it cool completely before you add the pistachios
Refrigerate until needed
Prepare the sugar syrup:
Add the sugar and water in a saucepan and bring it to boil
Add the cardamom pod and simmer for another 5 to 8 minutes
Keep it warm to dip the pieces of fried bread
Prepare the Tukras:
Heat ghee in a shallow pan on medium flame
Fry the cut bread slices turning sides until golden and crisp on both sides (be careful as it can burn quick)
Dip the fried bread pieces into the warm syrup for less than 30 seconds
Remove and arrange them on the serving plate
Serve Shahi Tukda:
Pour the chilled rabdi all over the fried bread pieces
Garnish with more nuts and rose petals
Serve immediately
Gulab Jamun (5 Instant desserts made out of breads…)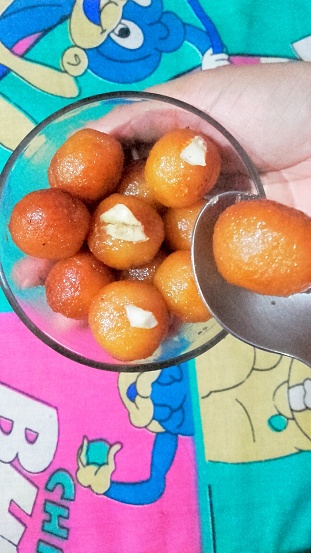 Instant Gulab Jamun made with bread, easy to form and tastes exactly just like the authentic Gulab Jamun…
Any dish that's easy to make and calls for a few ingredients gets my attention. This is one such sweet that had been on my to try to to list for a short time and it fits my criteria of being easy breezy and few ingredients.Bread is actually made from all purpose flour, and therefore the dough balls are fried. Hence, this may taste very almost like traditional gulab jamuns.
Made with very few ingredients that's always found in our pantry and refrigerator and tastes absolutely delicious. This will make an ideal dessert for any ocassion.
INGREDIENTS:-
(this makes 7 gulab jamuns, double if needed)
6 slices of white bread
1/2 cup warm milk
1 tbsp ghee
3 cups oil/ghee (for frying)
4 almonds
4 cashews
For the sugar syrup:
1.5 cup sugar
1.5 cups water
2 pods cardamom (smash before adding)
How to make the syrup (chaachni):
Start with boiling water & sugar together. When the sugar melts, throw in the cardamom and let it boil for about 10 more minutes.
Test to ascertain if it's the proper consistency by dropping a drop by a little bowl of water. If the shape of the sugar droplet holds for 5 seconds then you're good to go.
If you want more quantity of syrup then you can keep adding more sugar & water in equal proportions to increase the quantity.
For the Gulab Jamun:
Cut the sides off the white bread (like you're making sandwich for a man-child) and tear it into smaller pieces
Put it in the blender and mix until you get crumbs. Be careful not to mix it too much or it might get mushy
Take crumbs during a bowl, add 1 tbsp ghee and knead.
Keep adding 1/2 cup milk little by little and knead until combined
If you feel like it is too sticky, you can add 1 tbsp maida to firm it up a bit.
Knead until it becomes like roti dough, where it forms a smooth ball but it's very soft
Cover and set aside for 10 minutes so it gets really fluffy.
METHOD:-
Heat ghee in a kadai or deep bottomed vessel
Chop up almonds and cashews into tiny pieces. This will be the stuffing for your gulab jamun.
Take the dough and make 7 tiny balls out of it
Flatten the dough ball, top with nuts then roll it up in order that the nuts are within the centre
Roll it between your hands until smooth. Make sure there are no cracks on the surface, otherwise it will disintegrate while frying
Add gently to the hot ghee/oil. Make sure it is at medium temperature otherwise the outside will get burnt and the inside will be raw.
Gently turn it over when one side turns *darker* than. golden brown. Be VERY gentle, any marks made by the sharp edge of a utensil will misshapen your gulab jamun
When both sides are well cooked, add to the sugar syrup and enjoy!
Tips:
Fry it in ghee if you can for the *authentic* flavour, but if you don't have or cannot afford it (like us) you can definitely use oil
Soak it in sugar syrup for atleast 2 hours, otherwise you will only be eating crispy dough balls
Keep some chopped nuts aside for topping the gulab jamun. It adds another level of texture that's sooo nice
Bread Halwa (5 Instant desserts made out of breads…)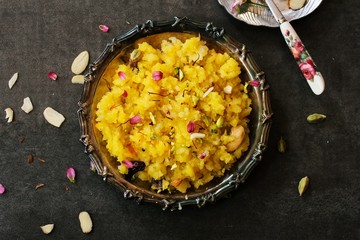 Bread halwa | Bread halwa recipe without milk preparation with step by step photos and a quick video. How to make yummy bread halwa without using milk? You can't find people who hate halwa. Bread halwa is one of the easy halwa recipes which can be made in less than 30mins using a handful of ingredients. You can use any bread for this recipe(brown bread/wheat bread/ sweet bread). You could personalize the choice of nuts and limit sugar & ghee according to your taste.
INGREDIENTS:-
Bread -4 slices
Sugar -¼ cup
Ghee -3 tbsp, melted
Cashews -10
Water -½ cup
Cardamom powder -¼ tsp
METHOD:-
Take a bread
Trim the edges of the bread slices. Keep it aside.
add ghee and drop some cashews and raisins and fry until golden brown, keep it aside
Put some bread slices and toast until golden brown and crisp on all sides . Keep it aside(similarly, toast the other 2 slices too)
Add sugar
Add water and blend it well
Boil for 3 minutes
Add roughly tear the bread slices and let it soak for few seconds and mash it well
Sprinkle some Cardamom powder
Pour 1 table spoon of ghee and blend it well
Add fried cashews and raisins. Mix it well
Serve bread halwa hot. It are often stored for 2 days.
Bread Ramalai (5 Instant desserts made out of breads…)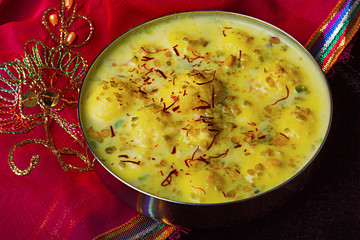 Rasmalai is basically cottage cheese dipped in rabri. This malai is made using curdled milk. Anyway, you can minimize the effort by using white bread condensed milk to make rich and creamy malai….
INGREDIENTS:-
Makes: 4-5 bowls
Cooking time: 10-12 minutes
Preparation time: 5 Minutes
Chilling time: 3-4 hours
1-liter full-fat Milk preferable
5-6 light bread slices
200 grams milk
1 tsp Cardamom powder
6-7 strands of saffron
A Handful of dry rose petals
A handful of chopped mix nuts, I even have used Almonds and pecan nuts
METHOD:-
Boil the milk during a heavy bottom pan for five minutes stirring in between.
Meanwhile, soak 6-7 strands of saffron in hot milk and blend well.
Add milk , cardamom powder, saffron within the milk and boil for 5-6 more minutes on low heat stirring in between till the milk reduces in quantity by 1/4th.
Let the milk cool for about half an hour.
Once the milk cools down, put it within the refrigerator for 4-5 hours,
Now take big bread slices and with the assistance of a round kitchen utensil cut 4 small rounds from each slice.
Arrange all the bread slices on a plate and pour 1 spoon of Rasmalai milk on each slice.
See thereto that the bread slices are soaked only enough in milk.
If you pour more milk it'll be very soggy and if you pour less, it'll not absorb and hence won't be moist,
now keep this soaked bread pieces within the fridge for half an hour.
Just before serving bread ras malai, place the pieces of soaked bread in bowls and pour milk on top, garnish with chopped nuts and rose petals and serve it immediately.
Notes:
This recipe is straightforward , however since the bread has salt in it, it's going to taste a touch salty.
Bread features a tendency to be soggy so please take care with steps 10 and 11.
Always serve it chilled.
Bread Malpua(5 Instant desserts made out of breads…)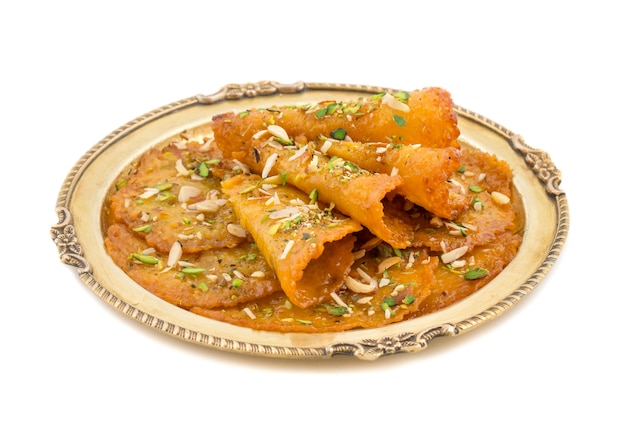 Bread Malpua may be a North Indian sweet that's eaten during festivals like Holi, and Diwali. the normal malpua is usually made with maida and takes tons of your time for fermentation in order that it gives a fluffy texture. But bread malpua is a simple and fast recipe which will be made instantly reception and may be served anytime during festivals.
INGREDIENTS:-
White bread – 4
Sugar – ¾ th cup
Raisins – 8-10
Pistachios – 8-10
Almonds soaked – 8-10
Cashew nuts – 8-10
Fennel seeds – 1 tsp
Cooking oil – 1 cup
Water – 1 cup
METHOD:-
Always use white bread.
Take a slice of white bread and with the help of a glass or any round object, cut the bread into circles and remove the leftovers. Repeat the same for all the bread slices.
Take a pan and heat oil in it.
Put the cut bread slices in the oil and deep fry them.
Keep turning the bread slices till they become brown and crispy.
Take them out on the plate.
Take another pan and heat ¼th cup of water in it.
As soon as the water starts boiling, add sugar in it and leave it to boil to make the sugar syrup.
Add fennel seeds in the syrup while it is boiling.
Turn off the flame when the sugar syrup reaches 1 string consistency.
Take a plate and put the fried bread slices in it. Pour the sugar syrup on top of the fried bread slices.
Garnish it with cashew nuts, almonds, pistachios and raisins.
Serve it hot.
12s COMMENTS