11 November, 2020
4 Instant Diwali snacks made @ home
Comments : 8 Posted in :
Indian
,
Snacks
on
by :
Rakhi Menon
4 Instant Diwali snacks made @ home
Hello every one am Rakhi Menon, Diwali is near lets make some easy snacks can be made @ home,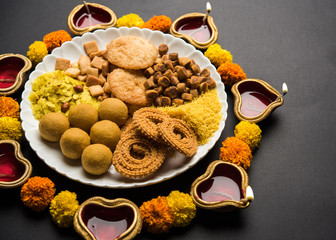 Deepavali has always been a special festival on behalf of me and my family. it is often been a happiest holiday on behalf of me . especially because it the family and friends time. moreover, aside from diwali recipes, it's the time for gifts, new dresses, new jewellery and more importantly exchange of diwali recipes including indian sweets and savories. also, we decorate our house by repainting and make it more attractive. we would love to buy new household stuff including furniture's and electronics items.
diwali is widely known this year on 14th November, 2020. while the celebrations is followed for 3 continuous days, t. the celebrations begins early within the morning by cleaning our doorsteps and drawing rangolis. this is often often immediately followed by wearing new clothes and gift exchanges. finally it's the time for tasting the diwali recipes including diwali snacks.
Chakli (4 Instant Diwali snacks made @ home)
Chakali – A queen of all Diwali delicacies!! i feel its hardly to seek out anybody who doesn't like Chakali. Very crispy and savoury snack prepared everywhere India during Diwali time. In Maharashtra we prepare chakali by using all types of various pulses and that we call it as Bhajani. But here its not available so here is that the best easy and instant recipe for chakali.
Ingredients:-
2 cups Rice Flour
1 cup Besan / Gram Flour
One and half cup Water
1 tbsp Ajwayan ,Cumin seeds, Red Chilli powder and Coriander powder
Pinch of Turmeric powder
3 tsp hot Oil for dough
2 tbsp Sesame Seeds
Method:-
First randomly crush cumin seeds and ajwayan together in to blender.
Heat 3 tsp oil. Take rice flour, besan, add crushed cumin and ajawayan, coriander powder, red chilli powder, turmeric powder, sesame seeds, salt to taste and blend all dry ingredients together.
Pour hot oil, mix well, now add water and begin to knead the dough.
The consistency of the dough should be like regular chapati dough. Cover and let it sit for 30 mts.
Deep hand in cold water, take large enough ball from the dough and add in to chakali maker and make chakali in to desired shape.
Deep fry chakalis till it gets brown color from both the edges .
tips:
The right consistency of dough is that the most vital part for this recipe.
Shankarpali (4 Instant Diwali snacks made @ home)
Delicious crunchy shakarpali which taste not only delicious but is super easy to form also . I love it with a cup of tea.
This is one among the simplest snack you'll ever make. All age group would love to have it. You will need a couple of ingredients and it takes just minutes to place together. Perfect snack for diwali.
Ingredients:-
Wheat flour /Atta – ½ cup
All Purpose Flour / Maida – ½ cup
Sooji / Rava – 3 tblsp
Salt to taste
Baking Powder – ¼ tsp
Ajwain / Carom Seeds / Omam – ¼ tsp
Kalonji / Nigella Seeds – ¼ tsp
Cumin Seeds / Jeera – ¼ tsp
Black Pepper Powder – ¼ tsp
Asafoetida / Hing / Kaya Podi a pinch
Water as required
Hot Oil – 2 tblsp
Oil for deep frying
Method:-
Take all ingredients except water during a bowl and blend well.
Add water and knead to a stiff dough.
Let it rest for 30 mins.
Take little dough, roll it little thick than roti.
Cut it into diamonds like.
Deep fry till light golden.
Drain and funky completely.
Serve
Chivda (4 Instant Diwali snacks made @ home)
For me I knew only the South Indian mixture as I even have eaten it n number of times, but later only knew there are many sorts in mixture like Bombay mixture, this Chivda etc. I tasted this Chivda 2 months back when Vj brought this from Pune. It was LaxmiNarayan Best chivda and I must say, it was indeed the best chivda I have ever had. The poha was light, airy and crisp. Along with the nuts and raisin and spice, it was really tasting great. I emptied the whole pack (and later worried about the calories ).
A Very easy, just need to gather the ingredients, fry and toss with the spice powders. I understand there are many low fat versions which I have to yet try, but first thing I wanted to try this deep fry version. May be later I will try and post the low fat version.
Ingredients:-
Flattened rice (Poha / Aval) – 1 cup
Fried gram dal – 1/2 cup
Peanut – 1/2 cup
Cashew nut – 1/4 cup
Raisin – 2- 3 tbsp
Salt – as needed
Oil – 1 -2 tbsp
Sesame seeds – 2 tbsp
Asafoetida (Hing) – 1/4 tsp
Turmeric – 1/4 tsp
Red chilli powder – 2 tsp
Method:-
Bring together and keep all the ingredients needed for the chivda. Heat oil in kadai. with a metal strainer, deep fry each ingredient separately.
I fried poha first, but i like to recommend to fry it lastly.
Roast cashew nut, peanut, fried gram dal (pottu kadalai/ chutney dal) until golden in medium heat , raisins until its bloated and drain in paper towel. I kept poha separately during a bowl with kitchen towel.
Take a separate bowl and keep all the fried items in it.
Once done, heat a broad pan and add oil. Splutter sesame seeds and switch off the flame. Add asafoetida, turmeric, red chilli powder and blend well.
Add the fried items, salt and mix/ toss well to coat everything evenly
NOTES:-
It retains many oil, so confirm to empty it overflow kitchen tissue.
I love the sesame seeds and asafoetida flavor best within the mixture.
I added 1/2 cup cashew nuts and located it an excessive amount of . So reduced the quantity in my recipe.
You can fry dry coconut sliced thinly. It adds nice flavour. I could not get so I omitted.
Bhakarwadi (4 Instant Diwali snacks made @ home)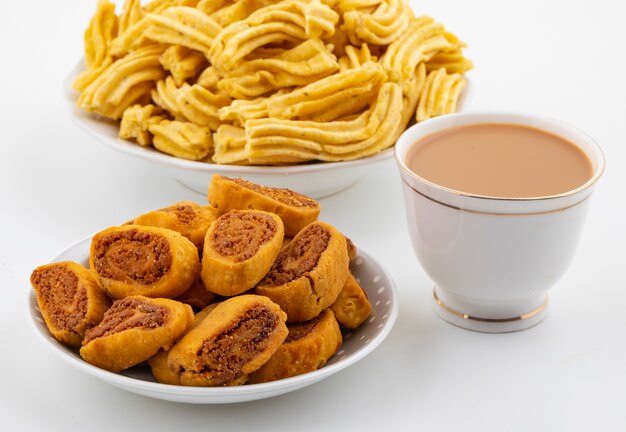 Diwali sweets are in making, one among the festive snacks that I made this point is Bhakarwadi!!
There is a famous snack shop in Mumbai ,which is very famous for many types of snacks likes Patties, Cakes, Nanakatai, Ladoos, Chakali and Bhakarwadi too.
I loved this snack a lot since my childhood,as I remember my mom getting bhakarwadi's for us.
Next time once I tasted a replacement preparation of bhakarwadi was once I tasted Iyengar Bakery's, this is often a special sort of bhakarwadi.Long in shape and really little masala at center. But this masala is enough to give an awesome bite size snack.
Ingredients:-
3/4th Cup Maida / All Purpose Flour
Salt as per taste
1 Teaspoon Red Chilli Powder
1 Teaspoon Carom Seeds
a Pinch Baking Soda
For Stuffing:
1 Teaspoon Coriander Seeds, Fennel Seeds and Cumin Seeds
1/2 Teaspoon Turmeric Powder
1 Teaspoon Red Chilli Powder
6 Cloves
Salt as per taste
1 Teaspoon Sugar
Oil as per need
Method:-
In a bowl,add maida,salt,red chilli powder,carom seeds,baking soda and add little water to form stiff dough.
Cover this dough with a damp cloth and keep it aside for 1 hour.
For stuffing,add items mentioned under "For Stuffing",to a mixer Grinder and grind to a powder.
Now,on a rolling board, apply little oil,and roll the dough in a chapati.
Make sure the chapati isn't verythin nor thick.
Spread powder on the chapati.
Now start to roll the chapati tightly.
You will get a long roll. Seal the edges.
Now with a knife, cut the dough into tiny bite sized pieces or as per shapes you would like .
Heat oil in a frying pan.
Keep side the fried pieces on a tissue paper
Let it cool for 5 mins. Store it in airtight container.
These can stay upto 8 days.
Enjoy the snack with Tea or Coffee!!
8s COMMENTS