6 November, 2020
3 most Authentic kerala dish with Kappa (Tapioca)
Comments : 12 Posted in :
Cuisine
,
kerala Authentic
on
by :
Rakhi Menon
3 most Authentic kerala dish with Kappa (Tapioca)
Hello every one am Rakhi Menon, here is some mouth watering recipe you can have with Kappa (Tapioca)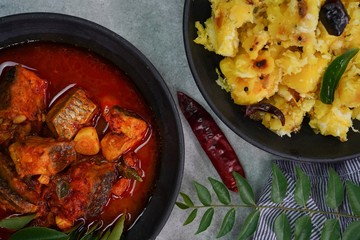 Cassava or Tapioca is additionally known by other names like Yuca in South America, Mogo in East Africa and Kappa in Kerala. There are many dishes prepared with starchy Cassava in many Latin American and other tropical countries. Kappa masala may be a typical Kerala dish loved in our house for the nostalgic memories it kindles. It makes me long for the warmth of our home land and its unique dishes. This being my favorite dish, I learned to form it very early, from my grandmother. I also wish to eat Cassava cooked as large chunks with a side of onion chutney or sliced and fried as chips.
It is served in many restaurants, big and little , where Kerala food is served. But the simplest Kappa and fish curry may be a specialty of toddy shops. Toddy, called 'Kallu', is that the fermented, intoxicating drink from the sap of coconut trees. Whoever has tasted it'll swear there's nothing like Kallu, kappa and hot meen curry. If you eat this in a houseboat on the backwaters of Kerala, it is a whole new experience!
Kappa(Tapioca) is always a best with fish curry, but people enjoy having it with beef curry and chicken curry as well! 
Kappa(Tapioca)& Meen curry(fish curry)(3 most Authentic kerala dish with Kappa (Tapioca))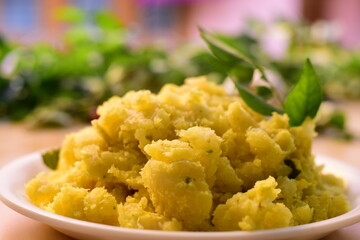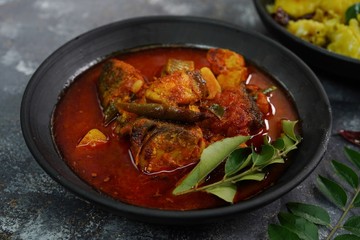 Ingredients:-
Tapioca- 3 kg
Coconut- 1 cup grate
Cumin seeds- 1 tsp
Garlic- 6-8 cloves
Turmeric powder- 1/2 tsp
Salt- to taste
Green chilies- 3
Mustard seeds- 1/2 tsp
Curry leaves- 2 sprigs
Fish- 500 g
Onion- 2
Ginger- 1 inch piece
Garlic- 7 cloves
Kudampulli- 4
Water- 3 cups
Chili powder- 2 tbsp
Turmeric powder- 1 tsp
Coriander powder- 2 tbsp
Kashmiri chili powder- 2 tsp
Fenugreek powder- 1/4 tsp
Coconut Oil- 2 tsp+ 4 tsp
Curry leaves- 2 sprig
Salt- 1 tsp
Directions:-
This recipe is in two parts the primary is that the cooking of the tapioca. For this we'd like to first clean the tapioca by removing the scales and cutting them into medium size pieces.
Boil the tapioca during a vessel with 4 cups of water and a pinch of salt.
Take the grated coconut ,green chilies, garlic, cumin seeds and turmeric powder and grind it well.. Use 3-4 tbsp water to grind the coconut.
Add the bottom paste to the tapioca once the tapioca is well cooked, you'll mash it if you wish the tapioca mashed, I prefer it as bite size pieces.
keep the tapioca in low flame with the ground paste for 5-10 minutes so that the paste gets infused into the tapioca.
Now is the part where you temper the tapioca and for this heat 2 tsp oil during a pan and add the mustard seeds and curry leaves. Once the mustard starts breaking add the tempering to the tapioca.
Give the tapioca a final stir and take it off the stove.
For Fish curry:-
For the fish curry soak the kudampuli during a bowl with 1/4 cup water and a pinch of salt. In a pan, preferably terracotta pan, heat 4 tsp oil.
Saute chopped onion, garlic, ginger, green chilies and curry leaves till the onions brown. Add the chili, kashmiri chili, turmeric, coriander and fenugreek powder after this.
Saute the powders for 3 minutes over low flame. Now add the tamarind along side the water it had been soaked in and add 3 cups of water.
Bring the gravy to boil and add salt. When the gravy starts boiling drop the fish pieces one by one.
Do not stir employing a spatula the fish tends to interrupt if you are doing this.
Gently lift the pan once all the fish pieces are dropped and provides the pan a mild shake. Place the pan back ablaze and cook the fish over low flame for 10- quarter-hour .
The fish I used was white tuna and it cooks in no time .
Switch of the stove after quarter-hour from dropping the fish after checking the salt and tanginess of the curry.
Let the curry rest for sometime preferably half each day before serving it.
For this reason we prepare the fish curry each day ahead.
notes:-
Kudampuli may be a sort of tamarind employed by Malayalees for seafood preparation. It is almost like cocum a special quite tamarind utilized in the Konkan region in India.
Kappa(Tapioca)& Beef curry (3 most Authentic kerala dish with Kappa (Tapioca))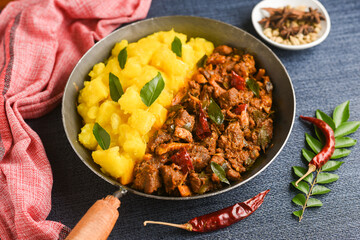 Kappayerachi or Kappa Erachi may be a wonderful dish from God's Own Country – Kerala. it's a mixture of Kappa (Yuca or tapioca) and Erachi (Beef). Kottayam Style Kappayerachi is extremely special. Cooked Tapioca and beef are simmered during a paste of fried coconut and spices, which makes this dish heavenly. you'll have Kappayerachi as a whole Meal or as a entremots or as a night Snack. it's left to you
Here is an authentic recipe for Kappa Erachi shared by my dear Mom-in-law. you would like to use beef with extra fat to urge an upscale taste. The health conscious can choose lean beef though the taste wont be nearly as good because the authentic one. I make KappaYerachi just one occasion during a while but once I make it, we can't stop eating and relish it till the last bit.
Ingredients:-
Beef 1 kgs
Black Pepper 2 tsp
Garlic Cloves 5 nos
ginger 1 piece
Curry leaves 2 sprig
Salt some To Taste 1 tsp
Garam Masala 3 tsp
Curd 1 tsp
turmeric powder 1 tsp
Shallots (chopped, to Saute) 2 cups
Ginger(to saute) 1 tsp
Garlic Cloves(to saute) 2-5 nos
Tomato, chopped (to saute) 1 nos
Onions(chopped to sautr) 1 nos
Chilly Powder 2 tsp
Coriander Powder(to saute) 2 tsp
Masala Powder(to saute) 1 tsp
Coconut Oil(to saute) 1/2 cups
Curry leaves(to saute) 2 sprig
Directions:-
Clean the beef meat and keep it aside.
Grind all the other ingredients except meat and curd in a mixer grinder.
Marinate the meat pieces with this mix. Keep it for 1 hour.
After this and add 1 cup of water to a autoclave and cook it well in it.
Heat oi in a pan, add shallots and onions and saute them.
Also while the onion become golden brownish ,add ginger, garlic and chopped tomatoes.
The oil are going to be clearing after sauting for a few time, then add coriander powder, chilly powder and masala powder and top it.
To this mix add the previously cooked beef stoke thereto .
When the mix boils, add meat pieces and stir it well.
Taste it know the salt level and add according to your taste.
And cook it under lid for a few time in low flame.
Cook until the water drains.
Switch off in such a manner that it is not a curry.
Garnish it with curry leaves and Serve hot with Kappa.
notes:-
Peel the tapioca pieces and boil it in a vessel for cooking.
Add 1 tsp of turmeric powder and when well cooked season it with mustard seeds.
Kappa(Tapioca)& Chicken curry (3 most Authentic kerala dish with Kappa (Tapioca))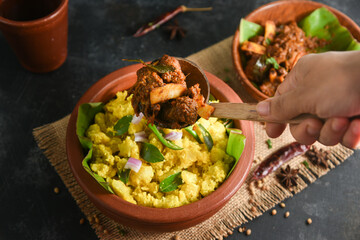 One of the Kerala specialty dishes is chicken and Kappa or Tapioca are eaten together. this is often one among my favorite authentic dishes. It's that straightforward and tastes delicious.
Ingredients:-
Tapioca or Yuca or Kappa- 3
For cooking Chicken Curry
Coconut or Veg Oil- 1 tbsp
Dried Bay leaves- 2
Onion, chopped- 1
Salt- ½ tsp
Garlic, grated- 1 large clove
Ginger, grated- 1 inch slice
Tomatoes, chopped- 2
Curry leaves- 1 Sprig
Chicken breasts, diced- 2 breasts (or use thighs)
Chili powder- 1 tsp
Turmeric powder- ¼ tsp
Coriander powder- 2 tsp
Garam Masala- ½ tsp
Salt- 1 tsp
Cilantro, chopped- ¼ cup
Directions:-
Peel off the skin from 3 tapiocas and dig cubes.
Fill ¾th of a saucepan with water and place over medium heat. Season with ½ tsp salt.
Add tapioca cubes and cook for 15 to 20 minutes .
Drain the water and keep aside.
Turn on the moment Pot.
Turn on Saute Mode, Medium Temperature.
Let Hot sigh display.
Add oil and dried bay leaves. Saute for a couple of seconds.
Add onion, season with ½ tsp salt.
Add grated garlic and ginger, add curry leaves.
Fry onions turn light golden in color.
Put tomatoes, cook for two minutes.
Add chicken, combine well.
Put some  turmeric powder, coriander powder, garam masala and salt, combine well.
Close the pot with the lid.
Cancel Saute mode and switch on pressure cook mode.
Set time to 10 minutes at high .
After 10 minutes, do a fast pressure release.
Open the lid. Combine the curry well.
Add the cooked tapioca, combine well.
Taste and add salt as needed .
Garnish with chopped cilantro.
Serve into a bowl and luxuriate in .
12s COMMENTS