30 October, 2020
3 best adas made with banana leaf – Kerala tasty Traditional dessert
Comments : 11 Posted in :
dessert
on
by :
Rakhi Menon
3 best adas made with banana leaf – Kerala tasty Traditional dessert
Hello every one am Rakhi Menon , am sharing simple and best receipe on 2 best adas made with banana leaf
Rice Ela ada (3 best adas made with banana leaf – Kerala tasty Traditional dessert)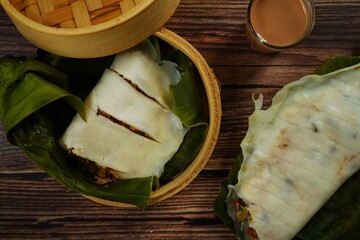 Bored of an equivalent old Kaju Katli or shakkarpare you create for Diwali? Moreover, these traditional mithais have a lot of sugar and fat, sending all of your weight and fitness routines way off the track. So if you're trying to find a replacement recipe to undertake and need to stay it healthy, here is a tremendous recipe for you.
Ada may be a sweet delicacy from Kerala. These are steamed rice pockets crammed with sweet coconut filling. It is know as ela ada due to the way it's made. Usually plantain leafs are wont to cook them, but due . They are enjoyed as snack/sweet during evenings with tea also as can act as breakfast if you've got a appetite within the morning.
Ingredients:-
Grated coconut-1 cup
Grated jaggery-3/4 cup
Ghee – 1 tsp
dry ginger powder – 2 generous pinch
Cardamom powder – 1 pinch
For outer covering
Rice flour-1 cup (235 ml) (use fresh home made rice flour for making Ada. See tips below for how to make rice flour)
Water – 3 to 4 tbs
Ghee – 1 tsp
salt – 1 pinch
How to make Rice ela ada:-
Make the jaggery syrup.
Add grated coconut and ghee to the syrup.
Cook in medium flame till everything becomes a single mass, with occasional stirring.
Add dry ginger and cardamom powder once flame is off.
In to the rice flour add 1 tsp ghee and a pinch of salt to it.
Add water slowly to make a thick batter.
Spread rice batter to a banana leaf piece.
Keep some filling at one side and fold to bring the batter on top of the filling.
Fold the leaf to get a neat shape to your ada.
steam it forv10 to 15 minutes.(initially in high flame and then in medium flame.
Tips:-
To make the banana leaf soft keep each leaf on top of a flame for few seconds also it will not tear while folding.
If you find the complete folding difficult, simply fold once and keep on the steamer carefully.
Home Made Rice Flour:-
Raw rice should be soaked in water for at least an hour.
Drain water and spread the rice in a neat towel for 10 minutes.
rind it in a mixer after the excess water is absorbed,
Sieve it to get a fine powder.
1 cup rice will give almost equal to 2 cups fine rice powder.
Chakka (Jackfruit) Ela ada (3 best adas made with banana leaf – Kerala tasty Traditional dessert)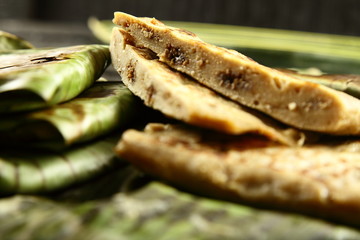 When Jackfruit season is around and we try many varieties with this god's gift! while we have a huge list of jackfruit recipe made in this lock down which was popular in mom's kitchen.
This ela ada is entirely different from what we do at my range in which chopped jackfruit stays as stuff ingredient with jaggery and grated coconut. It's my mothers' technique with less effort to cook for the foodie in a short period. Jackfruit and rice flour will be grinded and mixed to thick paste and then mixed with grated coconut and jaggery. This mixture is spread on small heated banana leaves and steamed well for the evening snack. An aroma tasty snack is ready with medicinal values of grilled banana leaves.
Ingredients:-
Raw rice – 1 cup, roasted
Jackfruit – ½ cup
Grated coconut – ½ cup
Grated Jaggery – ½ cup
Cardamom powder – 1 tsp
How to make Chakka (Jackfruit) Ela ada:-
To get a fine rice powder -Soak raw rice for 2 hours and drain it. roast the flour in a heavy bottomed pan on medium flame. I used the flour kept for making puttu.
In a mixer grind jackfruit and rice powder. Add grated jaggery and coconut into the mixture. Mix well with a pinch cardamom powder and keep aside. Grill the banana leaf – place a spoon full of mixture on the leaf and fold into half, then close three sides so that mixture don't get spilled.
Keep the idli steamer with enough water to boil on flame- keep the folded ela ada evenly over the idili plate.
Steam for 20-30 minutes till the ada cooks properly.
Chakka ada is ready to serve.
Tips:-
Dont add salt as there is saltiness content in jaggery.
keep each Banana leaf on top of a flame for few seconds also it will not tear while folding.
To check whether it's cooked you can peel the banana leaf from ada – if the ada gets sticky then steam for few more minutes.
Wheat Ela ada (3 best adas made with banana leaf – Kerala tasty Traditional dessert)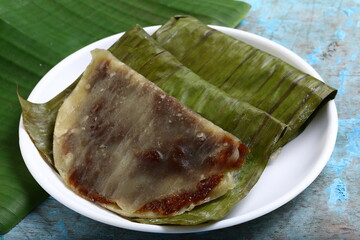 If you ran out of rice flour and there is no time to soak and make a batter with raw rice. You can use wheat flour by making a thick batter than making a dough. Using wheat is a great experiment, and they will come out very delicious and flavorful. it may get slightly stuck to the leaf and got torn at some places. Its because you must have put less batter on the leaf, so the thickness of outer covering is less.
Ingredients:-
3/4 cup flour
1/4 tsp Cardamom powder
Salt
Water
11/4 cup grated Coconut
3/4 cup Jaggery
1/2 tsp Cardamom powder
1 tbsp Cashews and Raisins (optional)
Banana Leaves


How to make Wheat Ela ada:-
Add some water to the flour and make a very thick batter. It should have a thick consistency.
Add salt and cardamom powder, mix well and keep aside.
Heat a pan and melt jaggery with little or no water to form a thick syrup. Please lookout that you simply simply don't add an excessive amount of water.
Now drain away all the impurities from the jaggery syrup and put it back to the pan. bring back a boil and add the coconut.
Stir until mixture becomes very thick and starts leaving the pan. Add the cardamom powder , cashews and raisins to this . Mix well and permit it to relax .
wash and cut the banana leaves to rectangular pieces. Slightly grill them by showing them over the flame or stove for few seconds.
Take each leaf and pour a ladle of batter into it. Spread it with the ladle a touch like how you're doing for dosa, but confirm that it doesn't become a very thin layer.
Place some filling everywhere the batter and punctiliously fold the leaf. Steam them in an idly cooker or steamer for 15-20 minutes.
Serve warm.
Tips:-
you'll make different fillings using various dals, flattened rice, banana etc. a simple one is just mixing coconut and sugar.
you'll make rice ada similarly using rice flour or raw rice.
If you can't get banana leaves, you'll try with parchment paper or aluminum foil .
11s COMMENTS